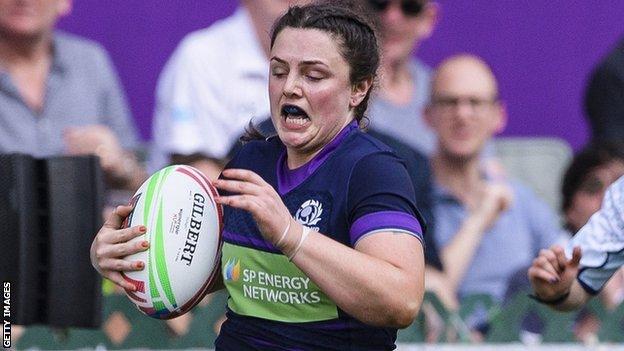 Premier 15s champions Saracens have signed Scotland winger Abi Evans, while compatriots Jodie Rettie and Coreen Grant have extended their contracts.
The 26-year-old, who has won 12 caps for her country, joins from top-flight rivals DMP Durham Sharks.
Rettie, 31, joined Saracens in 2018 and can play at hooker or flanker and has won 18 Scotland caps.
Versatile back Grant, 24, joined a year later and both helped Saracens win last season's title.
"With pace and the ability to beat defenders we are extremely excited about how Abi will develop at the club," Saracens head coach Alex Austerberry told the club website.
"Her long-term commitment to the club will allow us all to see her very best rugby here at Saracens.
"Rettie is a very competitive and combative player who is full blooded in everything she does.
"Her drive to succeed and maximise her talent is evident for all to see. Her experience and quality are a huge asset for the group and club.
"Coreen is a player who has been at the club for a few years now and is a player we are extremely excited about.
"Due to international selections over both forms of the game, we have not seen as much of Coreen in a Saracens shirt as we would have hoped.
"That said, we are excited about Coreen being able to show her undoubted talent after breaking through to the first team more consistently last season."